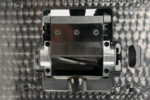 CP-I Rug Flat Shearing Machine

Your payment information is processed securely. We do not store credit card details nor have access to your credit card information.
The CP-I Rug Flat Shearing Machine is the most efficient tool to quickly remove fuzzier and pilling on carpet and rug surfaces.
Equipped with a 3 inches rotary blade, the CP-1 will save you time and money by quickly removing uneven pile height on top of your rugs. Also great to restore faded tufted rugs by enhancing pattern and color definition.
Made from solid steel and aluminum, this professional top shear machine is easy to adjust giving you full control on the shearing depth at all time. Obtain the desired rug thickness and a perfect surface in just a few minutes. Shearing your rugs has never been easier!
It is an essential tool for more handmade rug makers!
Features:
➤ Full control of the shearing depth
➤ Obtain the desired rug thickness
Specifications:
➤ Model: CP-I
➤ Weight: 12 lb (5.6 kg)
➤ Input Power: 500 w
➤ Motor Speed: 15 000 rpm
➤ Power Supply: 220v 50/60Hz
➤ Size of the base : 9″ x 11″ (230 mm x 280 mm)
Includes :
➤ CP-I Machine
➤ Height adjustment mechanism
➤ 3″ HSS flat blade
➤ 3″ HSS rotary blade
➤ Vacuum attachment
➤ User manual
➤ 3 months warranty against manufacturing defects
Shipping>>
It will take up to 1-2 business days to process your orders, Our team will ship out your item by USPS or DHL and our transit time on orders range from 3-7 business days. Click Here for More Information.
Returns>>
We offer returns and refunds for items within 30-day of receipt of shipment, Click Here for More Information.