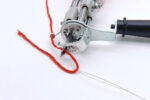 Yarn Threader for Threading Needle(3 Pcs)

Your payment information is processed securely. We do not store credit card details nor have access to your credit card information.
Get the best Yarn Threader on our online shop.
These are very convenient stainless steel threaders, which allow the yarn to pass through the round hole of the tufting gun easily. When you have it, threading the tufting gun becomes very easy.
For More Tufting Accessories, Please Visit the CATEGORY,
And Our Store Urban Tufting™ provides everything about tufting tools and materials, please check our SHOP PAGE.
Shipping>>
It will take up to 1-2 business days to process your orders, Our team will ship out your item by USPS or DHL and our transit time on orders range from 3-7 business days. Click Here for More Information.
Returns>>
We offer returns and refunds for items within 30-day of receipt of shipment, Click Here for More Information.